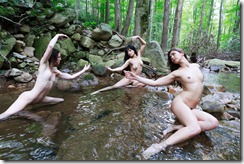 After working with Keria Grant in mid May we discussed shooting again when she came back through the area in late June.  As we finalized the date for the next shoot, I developed the idea of pairing her with another model in an outdoor setting.  I'd taken two models on an outdoor shoot before with Melissa and Katlyn last fall with wonderful results, but felt I'd been too cautious and reserved in directing the shoot and not gotten all I could have out of such great models.  I got some great images from that shoot, but always felt that I could have done more and if I'd been a bit more daring I could have gotten even better images.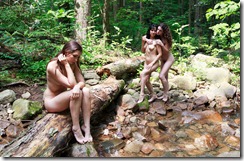 I've mentioned my plans to experiment more this summer and as part of that plan I began to consider adding a third model to the shoot.  I've worked with two models several times, but never three.  I knew that adding another model would make things more difficult, but liked the additional possibilities it would add.
After lining up Melissa Troutt for the second model I also brought in a third model that I've worked with before in Hannah Perez.  The biggest challenge I face getting ready for the shoot came in finding the correct location.  I wanted a scenic outdoor location, but also needed a private one so three nude models could work for several hours without being concerned about onlookers.  Several possible locations wouldn't work due to storm damage or just not meeting my needs.  I ended up deciding to use on one of the first locations that I scouted for the shoot back in early June while on another shoot.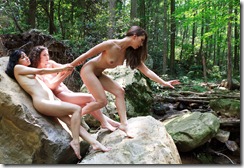 The weather forecast the morning of the shoot was just a bit menacing, but the rain held off and we had an amazing shoot.  Working with three talented models turned out to be a wonderful experience and almost every photo is great.  In fact the most difficult task in editing these images came in picking the best photos out of the those taken.  I honestly can say that I've not found myself with a greater ratio of great photos at the end of a shoot than this one.
Overall a lot of time and energy went into getting this shoot together and it's not something I'd do every day in spite of the enjoyment and success.  It surprised me how much mental energy it took to direct the shoot and keep things moving.  This still was one of the most enjoyable shoots that I've ever done and worth all the effort put into it and I think the photos speak to that.