Going back to my time in Arizona late last year for today. A few days before I left for the trip, I got a message from Plush who I'd worked with while in Phoenix back in 2012 right before leaving Phoenix on that trip. She'd moved from Phoenix right before my less than successful summer trip, but was visiting the city again at the same time I'd be there. I only took a couple of days in Phoenix this trip, and the schedules worked out that all three shoots in the city were the same day.
I'd had a late night before, so getting up early for my shoot with Plush took a little effort and even than a little coffee. I also found that the batteries for my flash had been left in my hotel the night before and so I had to make a quick walking trek to a nearby grocery store to buy batteries. After several days at higher elevations it did feel nice to walk outside without a jacket for a couple of days.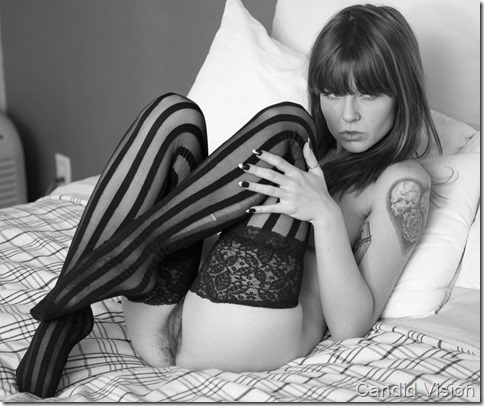 With my time constraints we didn't have the chance to get outside for this shoot and so worked out of my hotel room. I enjoyed working with Plush again and she's developed as a model in the last year. We started with a glamour set in lingerie, before moving to a bit more casually sexy outfit. You can see some more from this set in the member's area.
We wrapped up with some art nude styled images taking advantage of an interesting wall hanging with some nice texture to it. Also tried an interesting concept here with some shallow depth of field. I like how they came out as seen in the photo below. Also more from these two groups in the member's area.