The end of the year just invites reflection.  So on the last day of 2011 I'm going to look back at what I feel are five of my best photos of the year.  Notice the subtle shift from the title there?  Instead of just picking five photos, I decided to pick a few categories and pick the best photo in each one along with a little of the background behind the photo.  Fun thing is that since this is my blog I can be completely arbitrary and pick what I want.  As Mel Brooks said, "It's good to be the king."
My Best Photo of the Year
It came on a shoot in June, but this photo of Katlyn Lacoste I think has to be my best photo this year.  I thought so enough that I made it the cover of my eBook.  It's not just me as 500px highlighted it in their "Fresh photos" the day I posted it to the site.  Everything just comes together amazingly with a great location, a wonderful model, and an amazing pose.  There were a number of great images taken here that day, but this one still stands out to me.
Best Processed Photo
I normally don't believe in a lot of processing.  I try to get the photo right in the camera.  Of course I'll clean up blemishes, tweak lighting, and other things, but normally I feel the longer I spend on a photo in Lightroom or Photoshop, the worse the photo was.  This one is an exception.  I documented the shoot before, but loved playing with the multiple exposure concept with Melissa Troutt and feel this is the best photo.  I love the effect of the model photographing herself and want to play with the multiple exposure concept more in the future.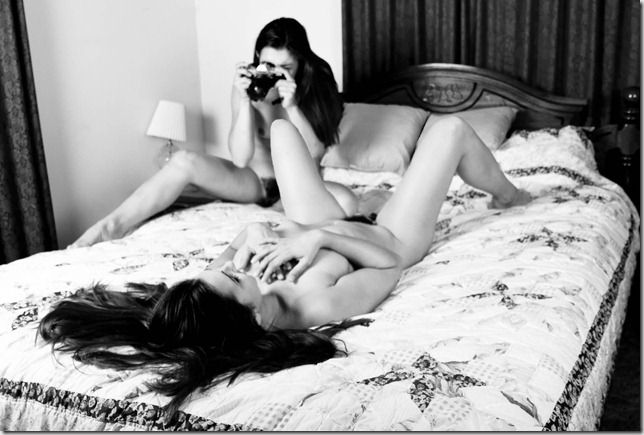 Best Photo from Biggest Experiment
Most interesting experiment I did this year came when I did a shoot with Keira Grant, Hannah Perez, and Melissa Troutt back in late June.  Working with three models at once was an interesting experience.  It was very draining and required a lot of focus and work.  The results were wonderful, and I definitely want to try it again someday.  There were a lot of photos I could have picked to put here, but over time I've come to feel this photo best captures the idea of exploring the relationships between women.  What I think appeals to me also comes in other ways you can interpret the photo.  Why's Melissa trying to pull away?  Why is Keria trying to stop her while Hannah appears indifferent?  So many ways you can answer those questions and each gives such a different story.
Best Erotic Nude
I haven't shot much erotic over the last year, but I think it'll be something I focus on more going into 2012.  Something about the erotic is appealing to me again as it hadn't for the last bit.  I did one erotic themed shoot this year.  I have a bit of a poor track record on my shoots with two models with an intent to explore erotic ideas.  Seems like almost every one has something weird happen.  A model doesn't show, we get kicked out of a place, etc.  Shoots with no erotic plans always go smoothly.  This one went wonderfully though so maybe my curse is broken.  Again a number I considered here, but in the end I think it's the eye contact between the models that brings me back to this one.  It feels like we're peering in just as they lose control.
Best Boudoir
The latest photo here, shot on December 23 with Brynn Cook.  I really love the intimacy of this photo.  It feels like the viewer is looking over at the model after waking in the morning.  I also feel the lack of nudity works as a strength since it gives it more of an intimate and less sexual feel.  I left in the cluttered background precisely because I feel it supports the casual feeling.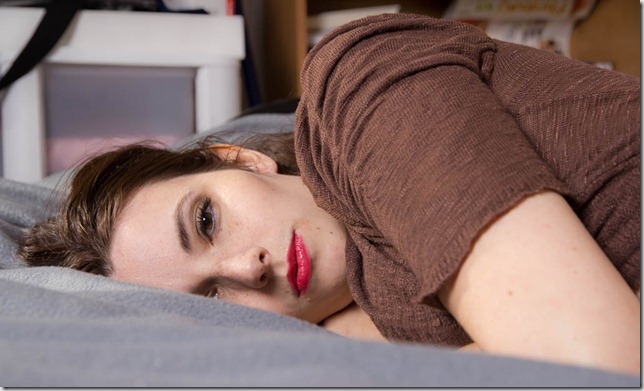 Two Bonus Photos
Okay I lied about five photos.  Here are two photos that really don't fit in the theme, but I still want to highlight.  See above quote about the king.
Best Rediscovered Photo
Reason this one is down here it that I didn't take it in 2011.  In fact I rediscovered it when I was sorting images for my eBook.  It's a wonderful image I shot back in 2008 with a model I'd met on a trip to Raleigh the month before.  I think this might be the first image (or at least one of the first images) that I really nailed the lighting exactly the way I wanted it.  Again perfect lighting, wonderful model, and just an amazing expression on her face.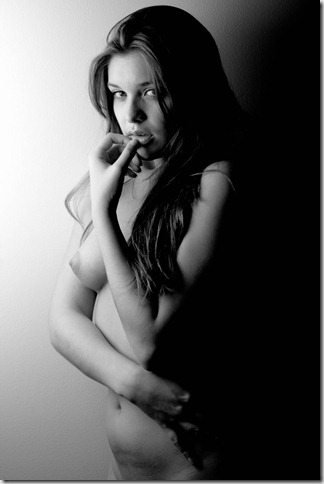 My Favorite Photo As I took It
Because it had been a long, hot day and this was very cold and refreshing.
Hope everyone had a great 2011.  Here's to a even better 2012 (picture me raising the glass above).
Related Images: