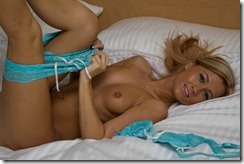 It takes time to launch one site and getting Rural Nudes off the ground earlier this month was a marathon and took about a month longer than I'd expected.  Having done it once though makes things a bit easier the second time around.  Over the long weekend I was able to get my second web site ready to go live and would like to introduce Uncovered Visions.
This new site will be a place to share more of my photography and not just the handful of images I place onto this site or on my profiles at sites such as Model Mayhem or One Model Place.  You'll see a little of everything that I shoot there.  A lot of art nudes of course, but also glamour, swimsuits, and even the occasional foray into the erotic.  It's a place to allow me to present more of my work on a more regular basis.
Among the models that you'll already find on Uncovered Visions are Ginger Lee, Melissa Troutt, Candle Boxx, and Delikah.  Models to come in the near future include Charlie Kristine (including the image from the previous post), Katy T, Xlcr Moon, Velocity, and Deanna Deadly.
If you're interested in seeing what's there, then head over and take a look.  As always I'd love to hear any feedback or thoughts on the new site.