A couple of final images from the shoot with Carlotta Champagne in late August.  I do think that is probably my second favorite location that I've shot at this year.  It's a relatively short hike from the trailhead to this falls, but the trail is rugged enough to keep the traffic down for the distance.  I've shot there a number of times and rarely been disturbed even after a lengthy shoot.  The only disadvantage is that the rough terrain and noise from the falls generally means you'll have no idea someone's coming until they are on top of you.  It can make things a little exciting when working without a lookout.
The first image I like for the different perspective.  It was done late in the shoot and actually in the rocks that are a probably forty to fifty feet from the base of the falls.  The rock that Carlotta is sitting on here lies above the stream that flows out of the base of the falls.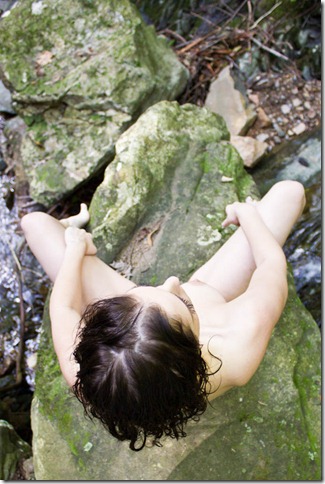 The second image is a black and white taken among some fallen trees near the falls.  The water from the falls is visible in the background and the falls itself is to Carlotta's right.